Travel Tea Infuser Chicago Black
---
The CHICAGO features 18/8 stainless steel body and is double-walled vacuum sealed for keeping your drinks hot or colder for longer. 
Features: BPA- free, food-grade safe reusable, stay hot for 12 hours and cold for 24 hours
Capacity: 450 ml/ 15.2 fl. Oz
Material: 18/8 stainless steel, double walled vacuum for insulation, stainless steel infuser and inside lid
Cleaning and Maintenance: Hand-wash only
CHICAGO Saturn Vacuum Sealed Fruit Infuser Water Bottle
The CHICAGO is a multi-function stainless steel infuser travel mug that's designed to keep your drink hot or cold while on-the-go. It's leak-proof and ideal for enjoying flavoured water, ice tea and coffee, hot tea and coffee or water. Additionally, this fruit infuser water bottle is double-walled and vacuum insulated allowing it to keep your drinks hot for 12 hours and cold for 24 hours. The CHICAGO travel mug holds 450 ml of your favourite beverage.
Stainless Steel and Soft-Touch Body
The soft-touch exterior and lid on the CHICAGO offers a sweat-free, comfortable grip, making it easy to hold and carry on the go. This infuser bottle won't slip like other flasks as the soft touch and matte finish allows for the best possible grip. Additionally, the Saturn matte pattern offers a unique design that will have you mesmerized.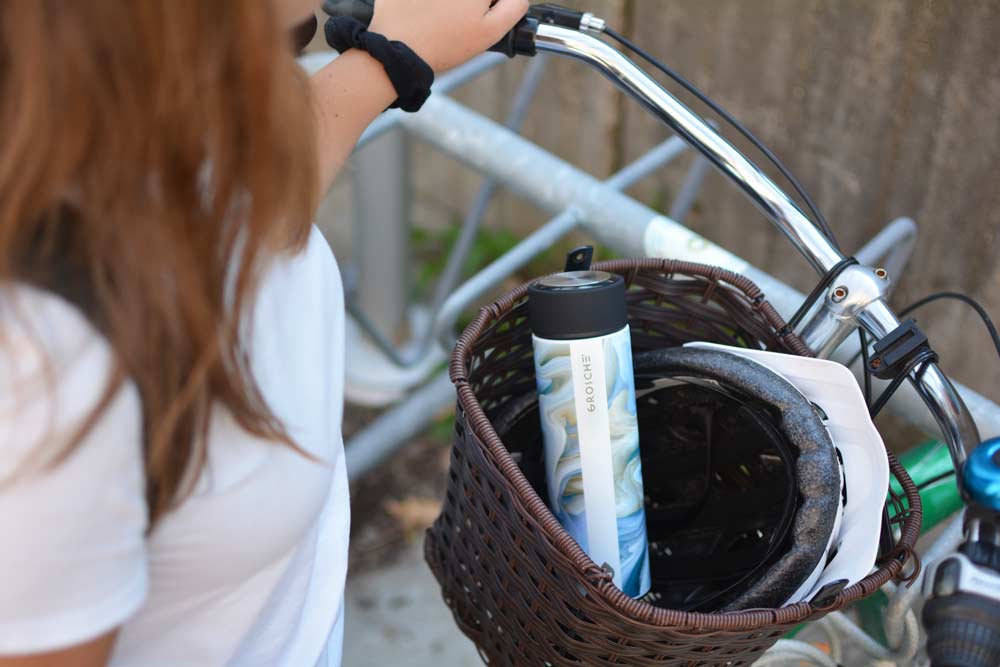 Multi-Function Stainless Steel Infuser (extra long two part infuser)
The stainless steel infuser separates into two pieces. The long infuser detaches from the basket infuser. The long infuser is used for steeping loose leaf tea while the basket infuser Is for keeping fruit, tea bags and ice from passing through into your mouth. Or, remove the strainer and it becomes a coffee mug or water bottle! The infuser is longer (almost 2x longer) than most other infuser bottles available on the market. This allows plenty of room for a complete infusion of your tea or fruits.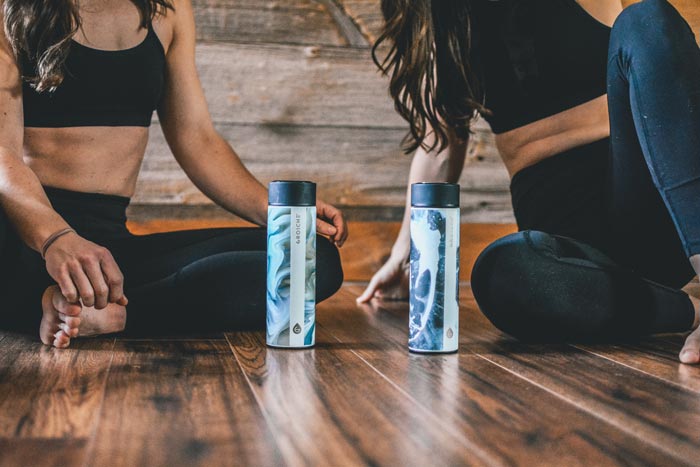 Eco-FriendlyTravel Mug
Furthermore, this food-grade, BPA free, reusable bottle is the perfect all-in-one travel bottle. The CHICAGO's vacuum sealed design keeps the temperature of your liquid consistent, unlike plastic water bottles. Additionally, this tea infuser tumbler is unbreakable and fits in all standard cup holders. Take it to the gym; use it at home, work, for travel or even outdoors. Wherever you use it, you'll be happy and hydrated!
CHICAGO Features:
Features: BPA- free, food-grade safe reusable
Available in: white, black, white marble, and black marble
Capacity: 450 ml/ 15.2 fl. Oz
Cleaning and Maintenance: Hand-wash only
Material: 18/8 stainless steel, double walled vacuum for insulation, stainless steel infuser and inside lid